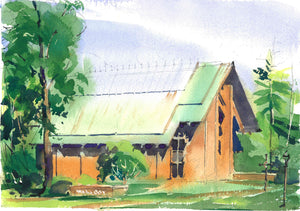 Sewanee Chapel of the Apostles
Print from an original watercolor painting by Bob Askew. It is double matted to an 8 x 10. Fits in a standard frame. Individually packaged in a protective sleeve.
The chapel is located just outside of the School of Theology's Hamilton Hall and was designed by the Arkansas architectural firm of the (late) E. Fay Jones.
COTA, as it's called, welcomes all to morning and evening prayer and is a hub to the Episcopal education at the seminary.